Two weeks after the dissolution of the Special Anti Robbery Squad, SARS, are still going about harassing civilians amidst the #EndSARs movement.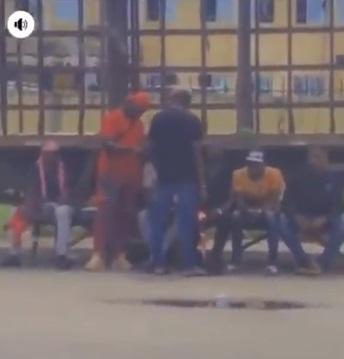 A video making rounds on social media shows the moment SARS officers dressed in mufti with their heavy guns go about checking phones of citizens of the country.
Watch the video below …
Check the time stamp; this video of SARS officers illegally searching the phones of young Nigerians in Owerri was recorded today; 2 weeks after Buhari and his IG announced the disbarment of the unit. #EndSARS protests must continue! @PoliceNG_CRU @PoliceNG @CNN @ARISEtv @FoxNews pic.twitter.com/CRhnv5vM3z

— Somto Onuchukwu (@chosensomto) October 28, 2020
Recall that the Inspector-General of Police, Adamu Mohammed on the 13th of October disclosed that the unit of the police, SARS, is disbanded and further noted that they are banned from stop and search activities.
According to Adamu, the newly created SWAT unit would not be concerned with routine checking, checkpoint stand, and other non-robbery activities.